The 2019 NFL draft had two receivers drafted in the first round, one of which was the last pick.  2020 will not follow suit.  An early mock draft by Bleacher Report's Matt Miller has SIX(!) receivers off the board in the first round.  That would be the most since the Larry Fitzgerald draft of 2004.  Say what you will about mock-drafts 11 months out, but if nothing else it paints a picture of how incredibly stacked the position is going into the new season.  On top of the six first rounders, off the top of my head there's three underclassmen absolutely capable of winning the award as well as a few others.  A position filled with absolute electricity should make the 2019 college football season GIF city for those that love the passing game.
So that's what I did  Here's the best GIF I can find on most of the mock draft first rounders as well as the three underclassmen.
*Donovan Peoples-Jones is absent from my list.
Jerry Jeudy, Alabama: 2018 Stats- 68rec/1,315yds/14TD's/19.3ypc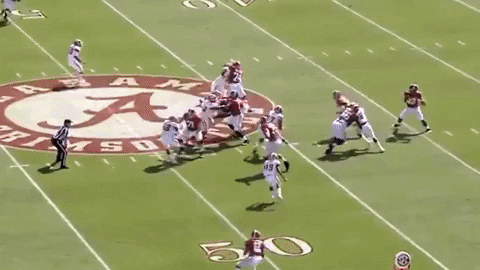 Jeudy should once again menace the defenses of the SEC, but I'm skeptical for three reasons of him going back to back.  One, with the aforementioned Sarkisian hire I'm skeptical on the amount of passing volume he'll see compared to the Locksley led unit.  I'm equally as tentative on the change in scheme from the wide open scheme he excelled in.  Don't be surprised to see his YPC drop this year with presumably less space around him after the catch (Can you tell I REALLY don't like the Sark hire by Bama yet?).  And third? The two guys next on this list.
Henry Ruggs III, Alabama again-46/741/11/16.1
Henry Ruggs 3…REALLY good at running REALLY fast down the field similar to former winner DeDe Westbrook, but more competitive at the point of catch.  This past combine i said Parris Campbell would run the fastest 40 for WR's.  Go ahead and pencil in Ruggs 3 for that mark this year.  Jeudy might be his only competition.  I don't foresee him getting the catch volume to win the award, but he'd be doing what Jeudy did last year for just about any other team in the country.  It's pick your poison with the Alabama wide receivers.  Two likely to go round 1 this coming draft.  And guess what?
The best one won't be eligible in 2020
Jalen Waddle, Alabama AGAIN: 45/848/7/18.8-Underclassman
Ok.  I'll admit saying Waddle is the BEST one may be a stretch seeing as I've seen Jeudy mocked as high as #2 in the draft, but I think he's both faster and quicker than Jeudy is and as a true freshmen the sky truly is the limit.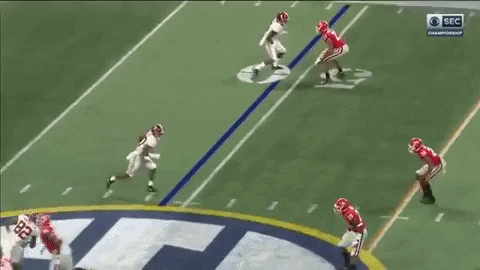 #2 Richard Lecounte, the guy with the angle he ran away from? He's a former 5-star recruit with a low 4.4 forty-time.  You know how insanely fast you have to be to just destroy that angle almost untouched? The guy will be a monster, along with the two other monsters on Saban's squad.  On paper he'll be have solidfied the #3 WR spot on the  roster this year, but he's better than Ruggs.  Will his stats reflect that? I think so.
CeeDee Lamb, Oklahoma: 65/1,158/11/17.8
The best PRO receiver prospect to come out of Oklahoma probably ever will see an uptick of volume with Hollywood Brown gone and will be the true number one for the Sooners.  For those don't remember him absolutely COOKING Patrick Surtain, Jr. in the national semi-final, he put up 8/109 and a TD in his National coming out party.  He also did this:
He's got the best hands in college football and text size.  What he lacks in speed and agility he makes up for in his incredible ability to high point the ball and make contested catches.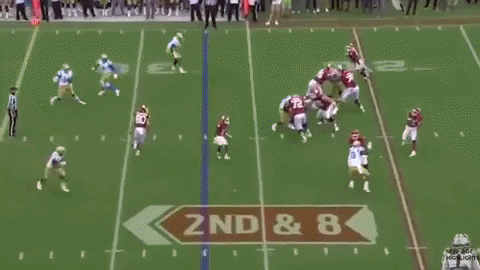 A presumable drop in Quarterback play after a year with both Baker and Kyler shouldn't slow his production down.  He's got the body control and power to fight for tough catches and will see a large increase in targets.
Laviska Shenault, Colorado: 86/1,011/6/11.8/(5 Rushings TD's) *Missed 3 games due to injury.*
A who? Laviska Shenault? He's a man with as unique skills as his name.  He's the do-it-all Percy Harvin type of player for the Buffalo, and a man striking fear into opposing defensive coordinators.  He's 6'2 220 playing the Percy Harvin role.  Line him up at receiver? He'll get you ten catches a game. Line him up in the backfield? He'll score every third time he touches it.  He's a swiss army knife.  He doesn't have the electricity sizzling around him like a Harvin or one of the Alabama members of this group, but what he lacks in sauce he makes up for in production.  A pace of 114 receptions had he stayed healthy, and a steady stream of gadget plays should get the most of the Texas native in 2019.  He's more similar to the CeeDee Lamb type than any of the other aforementioned receivers.  While he's not as polished as Lamb is, he has the advantage of going into 2019 being THE man in an offense geared toward getting him the ball.  If he stays healthy throughout the year, Shenault will be Jeudy's biggest competition at a title retention.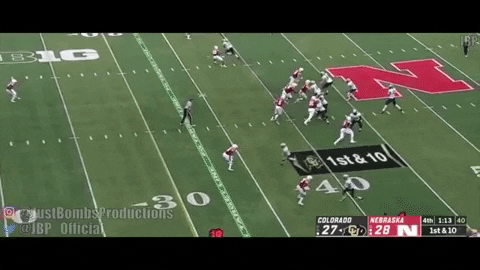 Tee Higgins, Clemson: 59/936/12/15.9
Clemson receivers will have the same issues winning the Biletnikoff as the Alabama group.  SO many good players that Trevor Lawrence will likely look for the biggest mismatch or feed the hot hand rather than have THE guy like Lamb and Shenault. That being said, a full season of Trevor Lawrence as well his infinite ceiling as displayed in the CFP bodes well for the Tigers pass catchers.  Expect Higgins 6'4 frame to get a LOT of passes like this.
Much like Alabama with Jeudy, as scary as they are, Higgins also might have a better underclassman than him.
Justyn Ross, Clemson: 46/1,000/9/21.7 underclassman.
First and foremost, it is necessary that I pause commentary and point out how ridiculous it is for a man of 6'4 stature to average 21.7 ypc.  That's some Calvin Johnson shit.  Flat out baffling.  Don't be surprised to hear Megatron's name synonomous with Ross when his time to go pro ultimately comes, but lucky for us, we get two more years of this shit:
Ross as a true freshman at WRU put up a respectable 699 yards in the regular season.  699 yards won't win you the Biletnikoff.  If you throw up 12/301/3/25.2 a pop in the playoffs though, I'm putting you on any and every list.
Rondale Moore, Purdue: 114/1,258/12/11.0
Mista RAZZLE DAZZLE MOORE may be my favorite player in the country going into next year.  One, because he is perhaps the most electrifying member of this esteemed club I just made.  Two, because he plays on a mediocre team he is constantly forced to PUT DA TEAM ON HIS BACK as he is force-fed touches.  And three, the most thrilling player in the sport plays for the Purdue Boilermakers because HE DECOMITTED FROM THE UNIVERSITY OF TEXAS! He's either got a big ole set of balls, or a screw loose but he might just have a big ass trophy saying "Best Wide Receiver in the Nation" as well this time  next year.
Watching a 5-9 true  freshman absolutely eviscerate "DBU" in front of the late Tyler Trent was one of the best moments of the whole season last year.  He threw up a statline of 12 catches for 170 yards and two touchdowns as well as 25 yards on the ground.
Plays like this:
And plays like this:
He'll get the volume and he's got the juice.  If he stays healthy he's got as good a shot as anyone.
Tylan Wallace, Oklahoma St.: 86/1491/17.3/12
If not for the community Alabama circle-jerk, Wallace could have and maybe should have won the award last year.  Mike Gundy has a "type" when it comes to Wide Receiver and Wallace fits it like a glove.  Just over 6 feet, not incredibly athletic so the big schools overlook them, gets open consistently.  Other members of that type formerly coached by Gundy: Dez Bryant, Justin Blackman, and James Washington.  Wanna know what they all have in common? They've got the trophy this article is about sitting on their mantle.  Wallace just might be next.
He's in the mold of Blackmon where he's more productive than he is fun to watch, a Draymond Green if you will, but if he can improve on his 2018 numbers in the slightest it will be very hard NOT to  give it to him.
I couldn't find a GIF of him worth watching, which means either the GIF hasn't been discovered yet in Stillwater or Tylan Wallace needs to go out of his way in 2019 to throw some pizzazz into his game.
My Prediction 3 months out?
Tylan Walllace
He's far from the best receiver in the land, but you can't argue with his production.  A new QB could in this  rare circumstance help him, due to the lack of talent surrounding Taylor Cornelius.  He'll be the go-to guy, and with Justice Hill gone the Cowboys will look to pass more.
Ranking the Rest (in order of odds to win)
2-Leviska Shenault
3-Rondale Moore
4-Jerry Jeudy
5-CeeDee Lamb
6-Justyn Ross
7-Jaylen Waddle
8-Tee Higgins
9-Henry Ruggs III