Unfortunately we're one NBA series away from the absolute worst part of the sports calendar, and as the dog days approach one has no choice but to look forward to the pin-prick of light at the end of a 3 month long tunnel.  While the tail end of August is still a waaaaays away, and you may be saying "Hey, why are you doing this now. It's not  even close to football season", I rebutt that thinking with this: dreaming of football is infinitely better than the alternative, baseball.  So here we are.  Things like transfers, payment for players and massive coaching salaries dominate the news scene these days so allow me to be a tall glass of water on a summer day and be refreshing.
While all that stuff is fine and dandy to fill the off-season void, I'll man up and take the bold step.  Not for myself, but for the people.
Lets talk about football.
These are the ten most intriguing story lines that will play out ON the football field this year.
What The Hell is Going To Happen In the Pac-12?
The conference is getting to the point that it's more synonymous with late night games and subsequent weirdness (Pac-12 Afterdark) than it is with playoff contention.  Since Washington got peacefully stomped by Alabama the conference has been shutout of the playoff, and with good reason.  Besides Sam Darnold's USC team in 2017, the Pac-12 hasn't even had a team close to the playoff, and even saying that is being generous to that USC squad.  Last year USC, a team that can hand-pick the massive talent pool of the greater LA area for players failed to win 6 games.  Washington, with the same Quarterback that took them to the aforementioned playoff game, had 3 losses by the time the conference championship rolled around.  Washington St. led by Minshew 2 made a little bit of noise, but it turns out throwing the ball 35 times when conditions look like this:
is a poor game plan.
By Mid-November the Pac-12 was completely out of contention, will 2019 be more of the same?
I don't think so.
Georgia transfer Jacob Eason comes into Seattle firmly entrenched as the starter for Washington, and has the pedigree to make Huskies fans drool.  The former 5-star recruit was injured in action at Georgia and was replaced by Jake Fromm.  Can't fault the guy for transferring from those circumstances and while I don't think Fromm is the world beater that some do, there was no way you could replace him with the way the team was winning.  I do not hold that against Eason.  If I was ranking purely the best teams in the country I would have the Huskies somewhere around the 10th team or so.  However, when it comes to teams likeliest to make the playoffs they have as good of a chance as anyone not named Clemson or Alabama.  As Washington fans will tell you, Jake Browning was the limiting factor of the team.  With Browning's Benjamin Button career over, and the more talented Jacob Eason taking the reins the Huskies should be an muuuuch improved and dangerous football team.
USC will be the Huskies main competition for the Pac-12 title despite not winning enough games to be bowl eligible last year.  They have the most talented roster in the conference and suffered in 2018 due to a poor O-Line, a true freshman quarterback who SKIPPED a year of High school, and an incompetent coach.  While the O-Line probably won't be much better and the incompetent coach remains, he hired someone who will give them both an identity and the scheme to produce despite the liability in the trenches.  Graham Harrell comes from the Mike Leach air-raid tree and while at North Texas last year Mean Green QB Mason Fine averaged over 40 passes a game.  The Trojans who averaged just 26 points a game in 2018 should receive an immediate shot in the arm on offense, and I am fascinated because this will be the first time we as fans will get to see the true version of the air-raid run by a team full of blue-chips.  Oh.  And USC's receiving corps is LEGIT legit.  And that's not inluding Bru McCoy.
Has Stanford's championship window closed? It is hard to defend the Cardinal for finishing unranked with that conference schedule but I give David Shaw another year before passing judgement.  What does Mike Leach have in store for us at Wazzu with Minshew 2 going to be a ski bum  Jacksonville Jaguar? Both interesting questions that will be key to figuring out just what in the hell is going on out West.
What will the Alabama Offense Look Like in 2019?
The Alabama offense of a year ago went down statistically as one of the best of all-time.  Similar to what was said about the air-raid at USC above,  seeing blue-chip athletes run a wide open system (while not the air-raid) was an absolute pleasure to watch.  I honestly thought that Alabama team would go down as the best team I had ever seen once they won it all.  Then this happened, and I had to re-think everything I had ever known.  In 2019 the Offensive Coordinator of that record setting offense will be coaching the Maryland Terrapins.  Luckily for Alabama, just about everyone from the actual team comes back.  They return 3 likely first round picks at Wide Reciever (LOL), replace a 1st and a 3rd round Runningback with more likely future high draft picks and one can assume losing a first round tackle in Jonah Williams shouldn't be an issue.  It's what 'Bama Does.
Oh and that Hawaiian fella is back as well.
Unfortunately for the Tide, Sober Steve Sarkisian is back as too and he's already making strange proclamations.
I'm not completely sure this isn't in some part Nick Saban being shell-shocked from Dabo going in dry in January, but it appears the offense will be different.  And by different I mean not as good.  You see, Nick Saban has never lost a game like that fateful championship game since being at Alabama.  You also must see, he has never had an offense anywhere close to that one, yet the Tide lost, so it must be due to that.  Clearly. Number of 28 point losses with a basic ass offense? 0. 28 point losses with a robust and record setting offense? 1.  It's math folks.
That prolific offense is what kept Alabama head and shoulders above the SEC last year, so I find the move to "step-back" if you will quite puzzling.  Tua looked transcendent last year, but his job will be more difficult now without an offense predicated on scheming for space.  You know with those 3 first round receivers?  He will likely overcome that because he's incredibly talented as a college football player, but I just cannot see a scenario where they don't take a step back.  And a step back in a game like LSU, Mississippi St., or Georgia last year could have spelled doom for the Tide.
Something to look out for.
What Will the LSU Offense Look Like This Year?
Keeping things in the SEC West, the story of how the LSU offense unfolds is even more intriguing than 'Bama.  With 'Bama I at least feel like there is a sense of a floor to what we'll see.  They're talented enough across the board to where I can say confidently it will be impossible for them to have a bad offense.  LSU on the other hand is trying to fix an offense that's been flawed for a decade.
A story that created a minor splash, but could have massive impact was Ed Orgeron hiring New Orleans Saints Assistant Joe Brady to something called a "Passing Game Coordinator".  LSU needs all the help it can get in the passing aspect of the game, and if Brady can bring some of the Saints to the Tigers the SEC needs to be on notice.  Now, that isn't just a BIG if…It's a HUGE if.  We've seen this song and dance before with Matt Canada.  Reports of Coach O micromanaging anything and everything however fizzled that flame before it even got burning.
Coach O has supposedly rehabilitated his ways, but even if that's true I still question Brady's impact.  For starters, he's not even the offensive coordinator.  Brady could revamp the Tigers passing game to his fullest ability, yet the scheme is still archaic.  LSU fans seem to think he'll be bringing the Saints playbook with him, but as long as Sam Esminger there I'm leery of them turning to the spread.  We'll see.
Joe Burrow, another Big-10 castoff leading a highly ranked team in the almighty SEC is an average quarterback that when put in the correct position can succeed.  That would be great for the Tigers…If these games were being played in 2009 and not 2019.  An average quarterback can't win a National Championship in today's football landscape, and it seems we've reached the point where an average overall offense can't either.  Even with Brady coming in, I don't foresee Burrow being able to topple Alabama.  If, however, Brady can resuscitate life into the poor asphyxiated soul that is the offense in Baton Rouge then it could foreshadow a future when LSU has a formidable figure under center.  That's when the Tiger's will be real scary
Something else for Tiger fans to ponder and while I don't mean to quell their stratospheric expectations it's worth mentioning.  Just because someone coached under and learned from Sean Payton….doesn't mean he will be Sean Payton.
Who's The Best Receiver in the Land?
Read the longer article HERE
This is the best receiver talent we've seen in recent memory.  Who takes home the hardware as the nations best?
Transfer Quarterbacks on Playoff Caliber Teams.
Jacob Eason was mentioned above, but Justin Fields and Jalen Hurts are much bigger stories.  There aren't 5 teams in the country that can boast the amount of talent top to bottom on their roster that Ohio State does.  Besides an inexcusable screw-up against Purdue last year, the Buckeyes were a playoff team.  What they did to Michigan should have an R-rating on further replays.  And they did most of that without #2 pick Nick Bosa.
And in walks Justin Fields, the #3 rated Quarterback of ALL-TIME
A benefactor of the new loose transfer rules, Fields walks into Columbus the clear-cut starter (two other quarterbacks have since transferred) to run the offense under Ryan Day, a guy several are already calling an offensive genius in the mold of Lincoln Riley.
If all of this is true, the Buckeyes should not just be Big-10 favorites but also a trendy pick for National Champions.  Replacing Dwayne Haskins will be tough, but Fields walks into the already Quarterback friendly system as the player with more raw talent.  At least on paper.  Can Fields live up to the hype? Can he get the Buckeyes past the meat of their schedule in Wisconsin, Penn State, Michigan?  Can he keep the Buckeyes stain free in their trap games? Haskins couldn't.  Fields brings a running element to the Buckeyes game that Haskins lacked that will give Big-10 foes another thing to worry about despite what Stephen A. Smith says.
Fields will walk onto the field against Florida Atlantic a complete unknown, while for the Oklahoma Sooners Jalen Hurts lands on the opposite side of the spectrum.   There hasn't been a player as prolific as Hurts transfer before, so while he'll be in a new system the college football fanbase has seen what he's got.  Most pundits are high on Hurts' prospects as a Sooner, predominantly because of both his record at 'Bama and Sooners coach Lincoln Riley's record of success with transfer signal callers.  While I don't dispute the notion of Hurts having success under Riley, I'm more bearish than the typical talking head.  Sure, Riley transformed both Baker Mayfield and Kyler Murray from cast-offs into Heisman Winners and #1 draft picks.  I am aware of that as anyone.  Riley had multiple years with those guys though.  Both sat out a year due to the transfer rules and used it to learn the offense and soak up knowledge from the QB guru.  Both of those guys were also more talented passers than Hurts is.
I've seen what Hurts can do with his arm.   Ehhhhhh.  It's not terrible don't get me wrong, but with less than a year to work with him, I have a hard time seeing a Kyler-esque transformation from Hurts under Riley.  I see Hurts putting up lofty stats under Riley no question and I almost expect to see him in New York at the end of the year.  But what made Baker and Kyler legends of the game and not simply heisman contenders was there innate ability to not fuck-up in big moments and score when it's absolutely necessary.  Call it the clutch bone.
The Sooner's defense is supposed to be better this year but playing in the conference that they do, there will almost certainly be a game where Hurts must score every time he touches the ball for a half or more.  Can he do that? I'm not certain he can.
That leads me too my next story…
What Will the Oklahoma Sooner's Defense Look Like?
Coach Alex Grinch brings his "Speed-D" to Norman in hopes to vanquish the ghost of Mike Stoops once and for all.  There's a little bit of a problem though.  Grinch's defense utilizes a completely different type of player than Mike Stoops' and his so called "scheme".  I've often pondered what's a more difficult transformation.  Going from a power-run offense to the air-raid while using the players recruited to the scheme of the former or vice-versa.  What Grinch will be doing is just that, but on the defensive side of the ball.  Stoops utilized a gap scheme where he had rather large defensive linemen hold a gap and let the linebackers creep up to make tackles.  It didn't work.
Like at all.
He also preferred a shorter, twitchier secondary to keep up with all the receivers they would play in conference.  That also…didn't work.
Like at all.
Stoops never felt confident in what he wanted as a DC in his time in Norman and the spread offenses of the Big-12 broke the poor man's soul.  The best game the fella ever coached in his second tenure at OU was the Sugar Bowl victory against Alabama.  The Sooners defensive line and linebacker Eric Striker were relentlessly harassing A.J McCarron all night.  It was magical.  We never saw anything like that again.  The rest of Stoops tenure he would tend to drop 8 and still give up big plays through the air.  Mostly due to the fact that his choice of defensive lineman wasn't suited to rush the Quarterback.
I don't expect Grinch to be the Messiah Sooner fans yearn for, but I expect at least one thing that Stoops lacked.
An identity.
His Speed-D is predicated on his players running around very fast and with a purpose.  He prefers a slimmer style of DT whose main focus is getting through the gap, not taking up space in it.  It seems most similar at least in regards to personnel to the hearty defenses of TCU when defensive coordinator Dick Bumpas was working with Gary Patterson.  They were undersized, yet wreaked absolute havoc on every offensive line they faced.  At the very least for the Sooners, if receivers are running wide open in the secondary it's my understanding that the Quarterback will at least be under pressure and forced to make a play.  That would be a distinct improvement.
The Sooners defense has never been bereft of talent.  That has never been the issue.  Freshman study Ronnie Perkins looks to return with a bigger role, and former 5-star pass rusher Jalen Redmond has been cleared of blood clot issues.  Both of those guys should be nightmares in Grinch's system.  Should be.  I'm in see it to believe it mode with the Sooners D, as should you.  It's going to take a whole lot of coaching on Grinch's part to completely remove the psychological scars Mike Stoops left.
With the Big-12 uncharacteristically lacking in proven passers, that bump could be all Oklahoma needs to win it's 5th straight conference title.  Even with a drop off on offense.
Year II of the Prodigal Son, Scott Frost.
I feel like one of the more underrated stories of the past 5 years is the fact that Scott Frost took a team from a winless 0-12 to an undefeated 12-0 National Champion. In just TWO years.
That fact alone makes Scott Frost a top 15ish coach in the country, and now he's back on the plains trying to catch that lightning back in the bottle.  While the Huskers weren't winless, the task is taller in Lincoln than it ever was in Orlando.  Recruiting to Nebraska is harder than ever , and moving from the Big-12 removed Texas as a viable option for athletes.  Pressure from the Husker faithful might not have reached Frost yet, but they've never seen their beloved team be so bad for so long.  It's been since 2010 and a different conference since they were in a championship, and they've been largely noncompetitive against their new foes from the midwest.
So why are the Huskers one of the most intriguing stories in the country this year?
Three reasons:
It took Frost TWO years to completely turn UCF around.  The first year after the 0-12 year, he led UCF to six wins.  IMMEDIATE signs of improvement, and then the following year they were National Champions.
The first 6 games Nebraska played last year were absolutely abysmal.  The Huskers averaged 23.3 points per game and the Huskers unsurprisingly were looking down the barrel at an 0-6 record.  The second half of the season however, they were a completely different team averaging 36.6 points through 6 games.  Things appeared to have clicked mid-season.  Another year for the players in the system and they should be even better
It's no surprise that Scott Frost's turnaround at UCF also mirrored Mckenzie Milton's arrival.  Milton was transcendent for a G-5 player and quite frankly should have gotten more Heisman buzz.  Milton isn't in Lincoln, but Adrian Martinez is…and he's pretty damn good.  Martinez comes into the season with the third best odds to win the Heisman.  That's a tad lofty in my eyes, but once the Huskers offense started rolling the guy averaged just under 300 total yards a game.  Those numbers should get even better this year.  Style wise he's in the same mold as Milton, perfect for what Frost wants to do.  He's not a guy with Kyler Murray or Lamar Jackson wheels but you have to respect his passing ability enough where when you give him a window to run, he can take it to the house.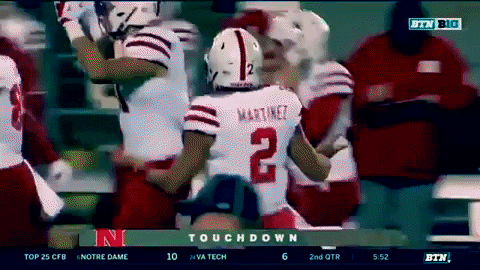 Just how Baaaaaaack Back is the University of Texas?
Oklahoma has had a stranglehold on the Big-12 conference for the last four years.  Texas on the other hand reached the conference championship for the first time since 2009 last year.  While they ultimately lost to the Sooners, they went toe-to-toe with the Georgia Bulldogs and won rather convincingly.  This led Longhorn Quarterback Sam Ehlinger to proclaim to the world that Texas, was back.
Are they though?
Depends on what you consider "back".
Are they back to competing for conference championships? Absolutely.  But they play in a conference that lacks depth, and they played in the conference championship the game before he made that proclamation.  What he seemed to insinuate was that Texas was back to competing for National Championships.
I disagree.
In fact, I will go on record as saying that Ehlinger is the limiting factor to Texas being back.  They return most pieces to a young yet stout defense.  They return WR Colin Johnson who some predict to be a first round pick in the 2020 draft as well as promising Sophomore Runningback Keontay Ingram.  Earlier I mentioned that it's near impossible to win a national championship with an average quarterback, and Ehlinger is above the average line it's not by much.  You absolutely HAVE to respect a Quarterback's arm in todays NFL, and Ehlinger is Great Value brand Tim Tebow.  You can have the greatest defense known to man, but in today's game of football that defense will give up points against a quality offense.  It's a fact.  No matter how good your defense is, you have to be able to score points in a shoot-out.  Against a high octane offense like Oklahoma, Ehlinger faltered in that.  His gaudy stat line does not show the missed throws and the late drive killing interception.  Also worth noting, Lil'Jordon Humphrey who was Ehlinger's safety net is gone.  We will know September 7th just how "back" the Longhorns are when they take on LSU in Austin.  My prediction? The Tigers are further along the rebuilding process than the Horns.
Are the Longhorns back? Back to having 8-4/9-3 Seasons, absolutely.   Back to national prominence and Natty runs? Not. Quite. Yet.
Is Georgia A Shoo-In for the SEC Championship Game?
Short Answer: Yes.
All of the hubbub about America's premier conference lacks one key insight.  It's been largely relegated to teams in the West, markedly Alabama.  Georgia has ran through their division the past two years, so the question is, will this year be different?  I have faith in Dan Mullen's coaching ability, but I don't think Florida is there yet.  South Carolina is slowly turning things around, but they won't be what the Bulldogs will be.  Vanderbilt and Mizzou are after thoughts.  Kentucky lost their whole offense when Bennie Snell entered the draft, and even with Snell they still got curb stomped by the Dawgs.  And Tennesee? Nahh.
The fact of the matter is that Georgia's biggest test will come from outside the division.  Texas A&M, Notre Dame, Auburn.
That's it.
It's a cake walk for the Dawgs.  And while most of the SEC East appears to be on the up-and-up unfortunately for them so is Georgia.  Kirby Smart is doing Saban-esque things on the recruiting trail and finally sending Georgia toward their ceiling.  I'm not sure what the models say, but by my mental math UGA has around a 35% chance to be undefeated going into the conference championship game.  People tend to harp on teams in the Big-12, Pac-12, and ACC not having a tough schedule but if you do that you have to include Georgia in that group.
Will 2019 be the Year Michigan is a Legitimate Contender?
I thought they were last year.  Then the massacre against Ohio State happened.  They lost defensive stalwarts Devin Bush and Chase Wimbush to the NFL,  but the unit overall should again be very good.  And they, like LSU are claiming to be entering the new era of offenses by hiring away Josh Gattis from Alabama.  Gattis was the co-offensive coordinator for the prolific Alabama offense, but also in similar instances as LSU, he wasn't calling plays.  Just because you were on the staff Mike Locksley set records with, doesn't mean you are Mike Locksley.  Still, Quarterback Shea Patterson should be dangerous in a spread system and I suspect Donovan Peoples-Jones will become a household name at Wide Receiver.  The pieces are there, it's up to Gattis to form the puzzle.  Will the turnaround happen in a year? That I'm less sure of.  Common sense however says they will indeed be better by some metric, but will it be enough to overcome an Ohio State team who whipped them by 3 touchdowns?
In my eyes the amount of that deficit was a fluke.  Mostly because Bush was hurt during that game and Ohio State played their best game of the year.  If you played that game 10 times, I think a 23 point win by Ohio State is the largest victory of the ten.  Chances are this year it's a whole lot closer, especially with the uncertainty of Justin Fields.
The key for the Wolverines season hinges on Shea Patterson and how he plays in Gattis' system.  They have tough games against Army and at Wisconsin early on their schedule, so they better have that thing polished right off of the bat.
I believe the Wolverines will have a championship level defense once again.  If the new offense has some legs and gives them a viable scoring threat whenever Patterson touches the ball, that game against the Buckeyes on the last day of November could have playoff implications.  For both teams.
And there we have it.  Ten things to occupy your mind until the end of August.  If you think of any story lines more intriguing feel free to hit me up on twitter @thesoscall or in the comments here.  Read and share hombres, we're almost there.