Some people are saying it's the worst sports day of the year.  Is it true? I have no idea.  It could be.  After all there is not one major sporting event today unless you're into that tennis thing.  But, since the basketball season has been over every day has been like this.  Watching summer baseball is a drag.  So really ever since Kawhi lifted the MVP trophy every day has been like this.
I would go so far as to say today is better than any day SINCE that happened,  because after all it means we are a day closer to football.  And as we inch ever closer to the season…more and more news comes out, stoking the excitement.  I plan on doing a preview for every conference, but I saw where the media poll for the Big 12 was released yesterday so I figured I would start there.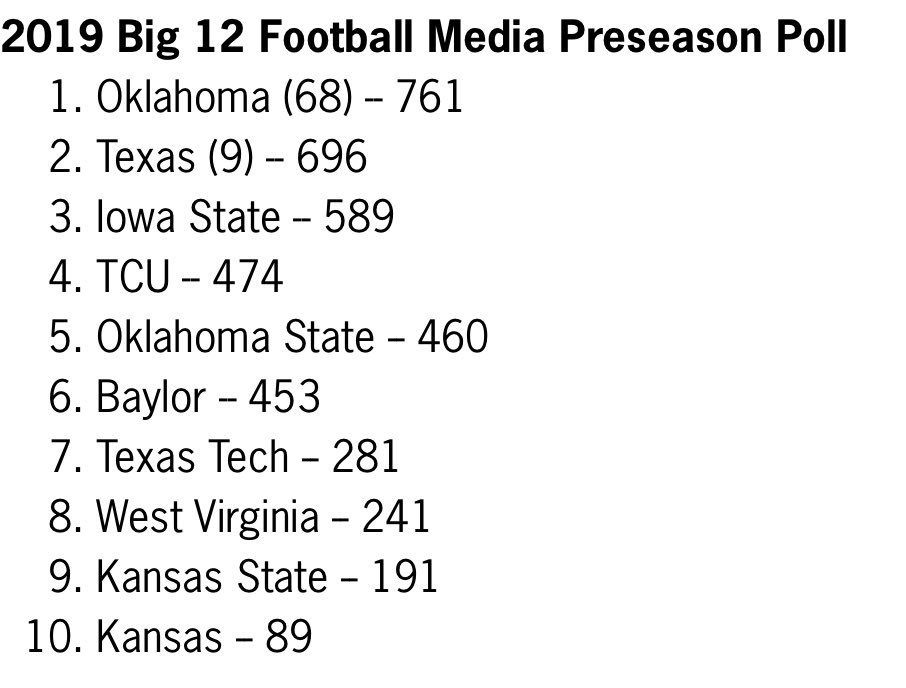 Overall I don't see any glaring issues from the media, mainly because the expectations between the 5 teams between #2 – #8 are both mysterious and unknown.  The only thing I know for sure is that they are not as good as the top two, yet they're better than the bottom three.  So I, unlike this poll will go a little deeper into why each team is where they are AND as a bonus give you what I think their win totals will be.
#10-Kansas Jayhawks
In what will become a common theme here, there's a new sheriff in Lawrence and his name is Les.  Kansas fans are stoked about it, and while I guess I can't blame them because of where their program has been of late and the "it HAS to be better than where we were" attitude, I would tell any Jayhawk fan reading this to please: temper your expectations.  I don't want to sound doom and gloomy for the broken man that is the Kansas fanbase, but I'll say this.  Les won a National Championship at LSU, indeed.  BUT, he could have won at least 3 more if he could have instilled some semblance of offense  to those teams.
Guess what.  It's REAL hard to win games in this conference without an offense.
On the other hand, coaches Matt Campbell and Matt Rhule have shown that a balanced attack can have some semblance of success.  Can Les' get to the bar of a competent balanced attack?  He was known for his defenses at LSU…but you're still going to need 30 points on the scoreboard to win most games in the Big-12.  I wouldn't call the future "bright" in Lawrence, but it's definitely interesting.
All that being said, the Jayhawks simply don't have enough to get out of the #10 hole just yet.  Scholarship restrictions and Kansas football status the last decade have sapped the team of just about all talent.   Pooka Williams is a star, but that's about it.
Shoutout the AD though, trying his damndest to get the 'Hawks bowl eligible.  Say what you will about powerhouse programs playing D-2 schools (or whatever that's called these days), but  I don't blame Kansas one iota for scheduling Indiana State and Coastal Carolina in their out-of-conference.  It's what you have to do right now at KU.  Sidenote: My respect for Mark Mangino grows by the day
FINAL RECORD PREDICTION: 3-8
#9-Kansas State Wildcats
What Bill Snyder did for this program-twice I might add-was nothing short of remarkable.  What he did for this program the last five years however, was tragic.  He could have left them sometime around 2014, a year they beat OU, and headed out as a loved figure with the program still in a strong state.  Unfortunately, in the current state they aren't much better off than their in-state counterpart.  Turns out, it's hard to recruit when you can't say for certain whether the head coach will be around when a prospect graduates…and to put what I mean as lightly as possible; an AD isn't going to fire a guy the fields named after.  I'll leave that at that.
Chris Klieman on the other hand, walks into the Little Apple with his first big head coaching job after 30 years in the profession.  At North Dakota State he coached a juggernaut that routinely beat FBS teams so he's proven he has the ability.  Unfortunately the cupboard is lookin' pretty bare in Manhattan.  However,  I gotta imagine the talent at K-state is comparable to what he worked with at NDSU.  A well coached team with lesser talent is a scary opponent to play.  Underestimate them, and they'll bite you in the ass.
FINAL RECORD PREDICTION: 4-8
They're good for at least 3 wins on talent alone (Nicholls, Bowling Green, Kansas).  They'll get someone else along the way.
#8-West Virginia Mountaineers.
Will Grier is gone.  Dana Holgerson is gone.  He's down at Houston now, and it's because he left of his own volition.  You can look at his departure two different ways.  One, he was offered a job in a more desirable place for him and his family that's also going to be a pay bump.  The second look though would be that it's fishy too see a guy go from a Power-5 job to a G-5 gig and there were reports of growing dissension and disdain between Dana and the administration.  I see it as a little bit of both.
I think it's similar to Jimbo Fisher leaving Florida State to go to Texas A&M, also a move that could only be called lateral at best.  Coach Holgo and Fisher saw  some sort of writing on the wall and took a desirable gig, while leaving another desirable gig with a less than desirable situation.  Any way you look at it though, it's a tough look for West Virginia.  Coaches just don't leave Power-5 jobs to take a step down.  It is a testament  of Houston and their power as a school as well as their seemingly willingness to make a statement in the College Football landscape.  All that is fine and dandy to believe, but you also have to believe that it's an indictment of some sort for WVU.  Like Fisher at Florida State, I think it's an indictment of what was left on the team after the NFL-level talent that churned the wheels of the team departed.  For that reason alone, I'm low on the Mountaineers.
WVU is in a weird spot in recruiting landscape because while they are in a major conference, they aren't near the lifeblood of prospect talent for the conference.  Dallas and Houston are a world away from Morgantown, and the rest of the Big-12 is a world away from the hotbeds on the east coach.  A lose/lose situation for the 'Eers.  Fortunately for West Virginia though,  in College Football stud talents like Tavon Austin, Stedman Bailey, Geno Smith, Kevin White, Karl Joseph and Will Grier can mask the deficiencies of the rest of the team.  I think Dana Holgerson's departure is an admission of guilt that there aren't any guys like that on the team.  Talent alone is keeping WVU a cut above the two Kansas schools, which is more telling of them rather than the Mountaineers, because that same talent is what is keeping WVU out of the conglomerate that is the next echelon of teams.  Transfer QB Austin Kendall had enough talent to garner an offer from Lincoln Riley, yet at no point in his career at OU was Kendall ever thought to be in contention for playing time.  Easy to dismiss that fact by saying he was behind two Heisman winners, yet there is a reason Riley went and grabbed Jalen Hurts.  A tough non-conference slate greets new HC Neil Brown starting in week 2 when his team travels to Columbia, MO to play an SEC foe.  Resurgent NC State awaits after that in Week 3.  I don't think WVU wins either of those games and it will be clear that there will be some valleys to climb out of first before Coach Brown can worry about the mountain that is conference contention.
FINAL RECORD PREDICTION: 3-9.  They'll beat the Kansas schools to tread enough water for Neil Brown to start swimming forward next season.
Here is where things start to  get interesting.
#7-TCU Horned Frogs.
I hope for  Gary Patterson's sake his defense is good, because that's the only hope the Horned Frogs have.  My last memory of TCU was watching the most horrifically awesome bowl game that ever existed.
In that game lucky viewers heard the most absurd comment of all-time regarding a football player.  "The new Quarterback coming in, Justin Rogers has a medical issue where he can't feel one of his feet due to nerve damage".
Excuse me?
YOU HAVE A QUARTERBACK THAT HAS CLUB FOOT? AND HES IN THE GAME?!
I was in disbelief, and despite Rogers misfortune I couldn't stop laughing at the absurdity of that statement.
Well.  In 2019 the starter for TCU at the Quarterback position is either going to be Rogers or Alex Delton who transferred in from KSU.  Neither option is attractive.  Rogers playing at all in 2019 is still up in the air and Delton transferring after  failing to get playing time at an atrocious Kansas State team is telling.
Essentially Gary Patterson's reputation for his defenses and lightning bolt receiver/return-man Jalen Raeger is all TCU has going for it.  Fortunately for Horn Frog faithful the defense is projected to be quite good;  so while the offense in Ft. Worth won't be what the next few teams have, they will remain competitive in most of their games.
I still can't shake the memory of a guy with club foot coming in to play in a bowl game for a major conference football team though.
FINAL PREDICTED RECORD: 6-6
#6-Oklahoma State Cowboys.
Tylan Wallace.
That's about it.
Mike Gundy and slightly over 6 foot receivers tearing up anybody and everybody; name a better duo.  Wallace is a monster who was a finalist for the Biletnikoff last year and a good bet to win it this year.  Dynamo running back Justice Hill is on to the NFL, but backup Chuba Hubbard showed some skill when Hill went down with an injury last year.  There's big questions at the QB position though as former top-tier recruit Spencer Sanders should be setup to take the reins.  I have questions regarding Sanders though for the fact that he's a dual threat QB in a notoriously passing focused system.  He threw the ball well as a high-school Quarterback but I'm not sold.  Excuse me for this possibly flawed logic, but it's proved tried and true time and time again.  I saw the product Taylor Cornelius put out on the field last year.  If Sanders couldn't see the field after that, then I'm skeptical of his ability.  Sure, you can say he wasn't ready for the lights last year and Cornelius wasn't THAT bad, but for a heralded freshmen holding both accolades and a the hope of Stillwater in the palm of his hand it's not unreasonable to expect him to see the field.
So the question is, is he ready after a full red-shirt year? That's to be determined, but even if he is I have a hard time seeing him play to the level of the upcoming guys on this list.  Combining that with the expected product on defense and Mike Gundy's seemingly forgotten desire to recruit it's going to be tough treading for T. Boone and the rest of the Cowboy faithful.
Someone give Gundy's agent a first ballot vote into the finesse Hall of Fame.  How ever this fella keeps getting his man raises is stunning.  OSU athletic director Mike Holder has publicly put Gundy's ass to the flame as of late, which had never really been done before so perhaps Gundy feels some pressure and pulls a few rabbits out of his ass this year.  The man publicly rocks an absurd mullet though, so I would hammer the under on that bet.
FINAL RECORD PREDICTION: 6-6
#5-Texas Tech Red Raiders
I'm not sold on Jalen Hurts ability to throw the ball quite yet, so until I see his progression the best passer in the conference resides in Lubbock, TX.  Alan Bowman showed immense promise as a true freshman despite poking a hole in his lung, twice.  If Bowman stays healthy, Kliff Kingsbury likely is still employed by the Red Raiders and with their infamous Air Raid offense, Texas Tech is the most dangerous team in the conference.  Alas, fate didn't quite work out for Kliffy and he's on to bigger and better things after the failing upwards of the millenium.
I'll tell you this though, I'm 100% sold on new HC Matt Wells and with Bowman healthy and at the helm Texas Tech might be just as dangerous.  The only glaring issue I see with the Red Raiders from the surface is that Matt Wells is bringing his more physical approach to the game to a team built and recruited to run the air-raid.  However,  Wells claims his system isn't one of only power (and Utah State last year is proof) and that it should be around a 50-50 split between run and pass.  An Offensive line that while not great, is solid and anchored by former blue-chip Jack Anderson should help him and Bowman out as well.  The new look Red Raiders should still put up plenty of fireworks due to Bowman alone, and if Wells can inspire the defense to play at a level just resembling competency the future should look good in the LBK.
FINAL RECORD PREDICTION: 8-4.  This is more indicative of scheduling more than talent.  One FCS school, one G5 bottom-dweller, and the carcass of the Arizona football program litter the non-conference.
#4-Iowa State Cyclones.
Play sound defense, don't fuck up and make a play here and there.  For such a simple strategy, it's worked astonishingly well for Matt Campbell and Iowa State.  He's morphed them from a Kansasian level squad to a team that can beat every team in this conference on any given Saturday.  In fact, Texas is the only conference foe Matt Campbell hasn't beat in the last two years.  He's doing an exceptional job of taking what he's given and excelling.  Unfortunately he's losing the two best players from last years conference championship challenging team so replacing Hakeem Butler and David Montgomery is task numero uno in Ames this Fall.  I have a feeling replacing a 6'5 behemoth of a Wide Receiver with the longest arms ever at the NFL combine will be easier said than done.  And 2nd day draft picks at running back don't strut into Ames, Iowa very often either.
The good news for the Cyclones is incumbent quarterback Brock Purdy is coming off a productive freshman year and is poised to make some noise nationally.  Can he bring enough out of the rest of the offense around him? Or was having Butler and Montgomery simply a huge crutch to lean on?  If what Campbell has done thus far is any indication, it will be the former.
They may be the best coached team in the conference which separates them enough to put them over Oklahoma State and Texas Tech, but unfortunately they lack the talent to be a legitimate contender in the conference come November.
FINAL RECORD PREDICTION: 8-4. Quietly, the fight for the Cy-Hawk trophy is one of the juiciest non-conference games of the year.  Both teams have big expectations by their respective fan-bases, and Matt Campbell has yet to secure a win in the heated rivalry for the Cyclones.  Last year after an 0-2 start the Cyclones hit their groove and were a much better team at the  end of the year than when they put up a lackluster 3 points against their in-state rival.  Will they keep up the momentum?
#3-Baylor Bears
To me there was no more impressive coaching job in the country last year than what Matt Rhule did in Waco.  Scraping out 7 wins from a team that won 1 the previous year is just unbelievable.  Rhule, like Campbell has built his team around a different philosophy than the conference trend.  I was a biiiig hater on the philosophy after year one, but he put the egg on my face after year two.  I'm not underestimating him in year 3.
Quarterback Charlie Brewer is a solid game manager for the Bears and massive wide-out Denzel Mims is going to be a problem this year.  Scat back Jamycal Hasty should provide plenty of opportunities for wrinkles in the offensive game plan as well.  Hasty was a prize recruiting win for Art Briles way back when Baylor was on top of the world, and his athleticism alone is something defensive coordinators will have to game plan around.
While I don't think the ceiling for Baylor under Rhule is anything close to the direction Art Briles had the program going in, I think they can be a team that challenges for a conference championship appearance here and there when things fall the right way.  I'm a firm believer that the style of system Rhule (and others) employ has a hard cap on it unless you are able to recruit the cream of the crop athletes.  Lesser talent thrives more in a spread style of system (assuming the coach knows what he's doing) like Briles employed, but if Rhule can continue what he's doing and prove that Baylor is a destination for mid-to-high level recruits then he can at the very least maintain notoriety within the conference.  Baylor will never recruit to the level of OU or Texas, but if they can get to a point where they are getting their Plan-C guys instead of Plan-F guys and a blue chip or three thrown in then Rhule should hit 8-9 wins regularly.  Which, while that won't eclipse what Briles was doing…it'll be a cleaner program for it and a LOT better than what Baylor is traditionally used to.
FINAL RECORD PREDICTION: 8-4.  It really is astonishing to see what has become of the program after it was left for dead after the Art Briles debacle.  They're a good enough team to make some noise in the conference race, but not a good enough team to win every game they're supposed to.
#2-Texas Longhorns
I'm not a fan of the system Texas runs, and I'm not as enamored with their Quarterback as most people are.  That being said though, they showed against Oklahoma and Georgia last year that with the right motivation they have the inherent talent to play with anyone.  Their defense is riddled with studs albeit young ones and their offense while not earth-shattering utilizes the perfect mix of power and ball-control to play off that defense and enables them to in any game.  Texas is simply going to bully the lesser teams in the conference into submission and the Red River Shootout should be as entertaining as last years.
The thing that is keeping Texas out of the top spot while Oklahoma re-calibrates are the two things I mentioned I wasn't in love with.  Texas isn't built to blow any team with a formidable offense out.  They have a very methodical approach to both their offense and defense.  They don't rely on big plays; instead they'll slowly yet surely march down the field moving the ball on you in 5-10 yard increments.  They're more Boa Constrictor than Black Mamba.  That's a solid game plan 9/10 times, but it opens them up to letting teams stay in games longer than they should.  And if that happens a few times over the course of a season, you're setting yourself up for a loss that shouldn't happen.  Luckily for them, the likes of Texas Tech, West Virginia and Oklahoma State who usually have dynamic offenses should take a step back on that side of the ball.  Sam Ehlinger is getting Tim Tebow comparisons, but he's more Colin Klein to me.  Both throw better than Tebow, yet don't have the knack for the truly special moments.  The other nagging question is if Ehinger can stay healthy with that style of play. 
In a shootout I don't trust Ehlinger to make big plays when needed, so for that and the above reasons they haven't eclipsed the 4-time reigning champions in my mind.  Also, the loss of safety valve Lil'Jordan Humphrey will hurt Ehlinger more than most expect. 
The other thing that scares me is the fact that while Tom Herman is a master motivator  for big games, every year they seemingly drop a game or two they should win.  It was the story at Houston and its been the story during his time in Austin.  Is this the year he finally capitalizes and wins the conference? I don't think so, but they should be there in December at Jerry-World playing for the chance.
FINAL RECORD PREDICTION: 9-3.  They'll lose against LSU because the Tigers can do everything the Longhorns do on defense only better.  I don't see the Power-Run game being successful against them.  Aside from that though, they should be the favorite in every game sans the RRS.   I think they drop that one as well and another along the way. The "Is Texas Back" meter is going to have to wait at least another year before it gets in the "yes" range.
#1-Oklahoma Sooners
Another year another QB for Lincoln Riley.  Last year more magic was created under his prolific system as Kyler Murray became the best dual-threat quarterback of all-time.  Another dual-threat cast-off is in Norman to take his place, but unfortunately for Sooner Nation I don't see a repeat of what Kyler did last year.  If the Oklahoma Sooners want to win the conference it's plain and simple.  The defense HAS to be better.  Unlike last year, there WILL be a drop-off in offensive production with a new Quarterback.  It just can't be possible for Lincoln Riley to continue to produce treasures from others trash and if he somehow does then Oklahoma needs to pay the man more than he could ever comprehend.
Alex Grinch comes in to Norman a handful of years after transforming another high-octane offensive oriented squad into one with also a respectable defense at Wazzu.  The debate in Norman has raged for years on whether the defensive short comings are more on coach Mike Stoops' scheme or the players he's bringing in.  The much maligned unit actually has a plethora of blue-chip recruits despite what you might think, so I'm on the side of it being Stoops shortcomings.  Losing former 5-star recruit Caleb Kelly at linebacker is going to hurt them, but with a system in place that unlike the ones of years past has a clear goal, there should be marked improvement on that side of the ball.  Without Kyler Murray last year, Oklahoma probably loses 4 games at a minimum.  It got so bad on the defensive side of the ball, that the Sooners probably would have lost to Kansas had the future #1 draft pick not saved them time and time again.  That isn't a recipe for sustained success.
On the other hand, with an even average unit on defense the past two years the Sooners likely have at least one national championship.
Oh, and Alex Grinch's redesigned unit better get it together in a hurry too because Dana Holgerson and future Heisman candidate D'Eriq King come to town week 1.   
The big question for the Sooners besides the defense, is what the offense will look like.  Baker and Kyler both had multiple years under Riley to fine tune their game before they won the Heisman which is a luxury Jalen Hurts didn't get.  Besides a few plays here and there, I have never been impressed with Hurts ability to throw the ball so one of three things will happen.  Riley shows how insane of a QB whisperer he is and gets Hurts to a level of passing where the offense can remain the same its been the last 4 years, Riley can't get Hurts to that level and tries to shove a square peg in a round hole and runs the same offense he has the last 4 years, or Riley adapts to Hurts strengths and modifies his playbook.  I would assume the 3rd option is the likeliest to occur, but what will that offense look like?  With a retooled offensive line and no Hollywood Brown, there will have to be a lot of new faces that turn out to be studs for Oklahoma to prosper.  I'm not going to be the one to doubt Riley though. 
PREDICTED FINAL RECORD: 12-0. I think Alex Grinch has enough talent on the roster to get this defense turned around in one year.  Sure, they won't be world-beaters but his philosophy of speed-D and an emphasis on turnovers will give them a distinct philosophy which they have been missing the past 5 years.  Getting to the Quarterback is the emphasis, and that alone will get the defense a few stops a game they didn't get last year.  That will be enough to counter-balance the drop off from the absurd quarterback play the past four years.  In addition to that, I see the offense slowing down this year with less big plays a game and more long sustained drives.  This in turn, will keep the defense fresher.
That's how its going to shake out.  I'm 100% sure of it.